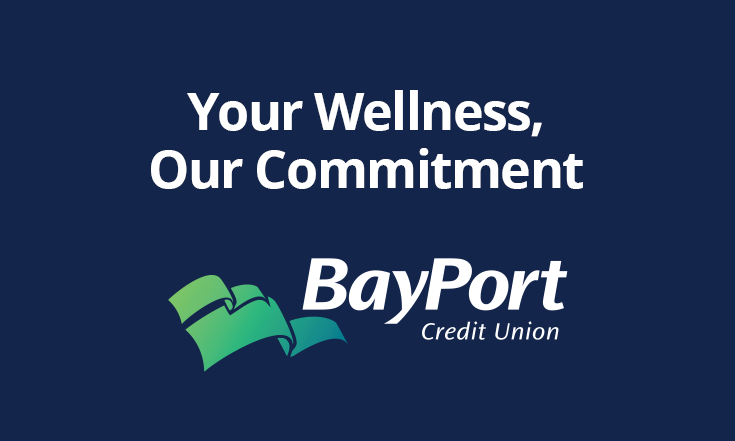 During this unchartered COVID-19 time, our BayPort Team is working to make sure our members have what they need to handle their finances safely and securely. This includes digital tools to access and manage your account, and access to our branch by appointment to handle transactions that need to be done in person. We also introduced our Member Relief Programs several weeks ago to help alleviate some of our members' financial hardships.
We will continue to provide up-to-date information so you can bank confidently during this rapidly evolving time. I want to take a few minutes to let you know about some enhancements we have made to our Member Relief Programs.
To further ease our members' financial worries, we have enhanced our No-Fee Skip-A-Payment program. We have advanced all eligible consumer and business loan due dates automatically by one (1) calendar month.
Please keep in mind, interest on your loan will continue to accrue. If there is no change in your current income, we recommend that you continue to make your monthly payments.
If you would like us to adjust your automatic loan payment transfer from your BayPort account or through payroll deduction, please contact us. If payments were established online, through Bill Payment, or through another financial institution, you will need to stop those payments and re-establish them with your new due date. Please log on to Online Banking to view your new loan due date.
Please note the following loans are not eligible for automatic Skip-A-Payment: Credit cards, first mortgages, term loans, and overdraft repayment. However, BayPort is also offering additional Member Relief Programs to help ease the financial burden.
Emergency Loans are available in cases of reduced income.
Mastercard credit cards: To skip your BayPort Mastercard monthly payment, please call our Contact Center at 757-928-8850 or 800-928-8801.
Penalty-free certificate withdrawal on all regular, special, and IRA certificates.
Up to 90-day forbearance on first mortgage payments due to financial hardship.
Please remember, all BayPort branch lobbies are temporarily closed to the public. However, members may schedule an appointment to meet with a member of our staff. Additionally, our Contact Center, branch drive-thrus, YourTeller® machines, and ATMs remain open and are ready to serve you.
Please continue to check our website for news and updates. Let's continue to work together to help one another during this time.
Jim Mears
President/CEO
BayPort Credit Union