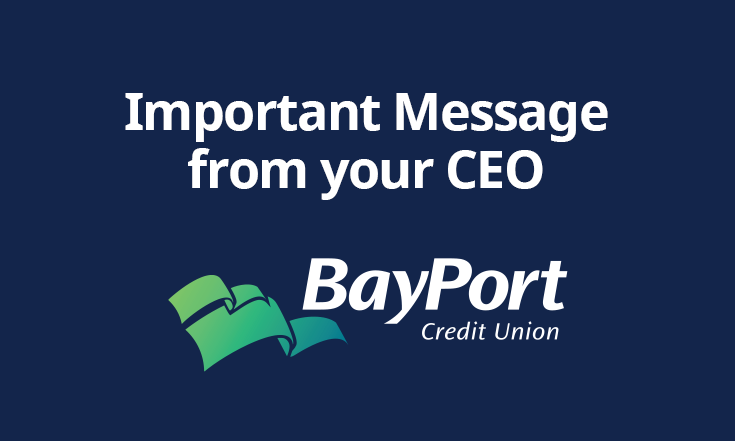 Dear BayPort Members,
One of the great privileges of my role with BayPort is the opportunity to speak directly to our members. Over the past few months, I have used these opportunities to share updates regarding member relief programs, changes and updates in branch operations, and information to help keep you and your families safe and your businesses operating. Today, I want to have a different conversation with you–one that is not always easy, but one I feel is profoundly important.
I am sure you have watched scenes from across the country, and now the world, of the protests, marches, and calls for change that have erupted following the horrific death of George Floyd in Minnesota. We are all processing what is currently happening in cities and towns across America, and right here in our community. We are having conversations with our families, our children, and on social media. These are important conversations to have because only by talking about these issues, will we see a catalyst for real change.
Our BayPort Team values inclusion and diversity–we understand that our differences make us stronger.
Our BayPort Team does not tolerate inequity of any kind; racial or otherwise.
Our BayPort Team is committed to helping everyone in our communities be happy, healthy, and financially wise for life – regardless of skin color, sexual orientation, or socioeconomic condition.
Our BayPort Team will work to end racial inequity wherever we see it.
And,
Our BayPort Team values each and every one of you for the individuals that you are.
I commit to you that we will listen, we will learn and we will do whatever we can to facilitate the change we all want to see. Credit Unions have a rich and powerful history of financial inclusion, now is the time to build on that.
We will be here, standing with our communities, our members, and our staff just as we have been for over 90 years. We are people helping people. We are stronger together. Let's not ever forget that.
Best regards,
Jim Mears
CEO/President